1-9-2015 First Day, departure and arrival.
On the first of September 2015 I started my second adventure to Japan, to record my new album with some great Japanese musicians, whom I had met on my last tour to Japan, October 2014.
Japan 2015 I was dropped off by my management at Schiphol airport to go on a 10 ours and 15 minute flight to Narita, Japan. KLM made sure I could bring my saxophones as hand luggage so after putting it in a storage on board I found out that I had the 'best' seat, the one in front near the exit so there were no chairs in front of me and I had a window view.
As I am not the best sleeper, I had decided to watch 5 movies and sit it out. While I watched some pretty bad videos my mind drifted off on things that were to become. The last couple of months I had been working hard together with my friend and piano player Jacob Bedaux. Together we arranged tunes for this album that would feature more horns on some of the tunes that I wrote.
Landing in Narita, Tokyo is always a great joy, right away you feel the balance and perfection around you. After checking true the customs I waited for  my friend and  great alto player Yuichiro Tokuda, he was going to pick me up from terminal 2. Together we went by car to our first stop, to go to temple in Narita city. As we went true the rituals Yuichiro and I both felt that this project was going to be special, and were looking forward to this journey. After relaxing for a bit and walking around we went back to the car.
My first stop would not be Tokyo but Kashiwa, more up north of the Chiba prefect. There I would meet up with my basplayer, Satoshi Tokuda. He came all the way from Nagoya so he would join me at the hotel we booked there to stay for the first five days. As we were a bit to early to check in yet, Yuichiro and I went out for a coffee in Kashiwa and checked out the club where we were going to play our first show, Studio Woo.After checking in the hotel I relaxed for a bit, walked to city and waited for Satoshi to arrive.
When he came we decided to go out to eat and drink to celebrate our first day in Kashiwa and the upcoming period of working hard to reach the two days of recording. After a great meal and lots of talking about music we went back to the Kashiwa Plaza Hotel were we both went to our room. While my jetlag was starting my sleep did not happen that night. Walking around in the hotel lobby with my tablet was the best option at this time.
[gdlr_divider type="solid" size="50%" ]
2-9-2015 Second day, rehearsal, food and…… food.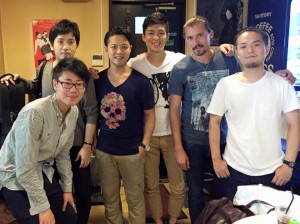 The second day I had planned a rehearsal to check out the tunes with the whole band. Shunishi, my piano player had booked a room for us, five train stops from my hotel. Together with Satoshi we jumped the train to the practice room. The train system in Japan is very efficient and always on time!
Neatly packed inside the train we headed to a different part of Kashiwa to meet up with the rest of the band. This was the only opportunity to play the songs with all band members, it was the tenor players only free day and he would meet up with us again in studio.
It felt great seeing all these guys again after almost a year. After a good rehearsal of about 3 ours we left to get some food and drinks at a nearby restaurant. We stayed for about 3 ours and parted our ways. Together with Satoshi I took the train back to our hotel. Both me and Satoshi were a bit tired so we agreed to rest for a bit before we would head into town to score some ramen. I always try anything out, and Japan is a great place to eat, everything is very clean and of the highest quality.
This time I tried the famous Mountain Ramen, great!
After dinner we went back to the hotel to sleep and get fresh for our first concert at Studio Woo.
Unfortunately again my sleep was not happening and so I spent most of the night being on skype with people from Holland.
[gdlr_divider type="solid" size="50%" ]
3-9-2015 The third day, restless and ready for studio woo
I went out early this morning to get a good cup of coffee. My hotel was very close to a train station and so there I found a Starbucks coffee place. To be in Starbucks is not that special, at least in Holland. As usual I was asked if I wanted to drink my coffee at a table or if I wanted to take out. This is still very normal, but the place was very crowded so the girl that helped me looked around and found a table for me. She took a metal board saying reserved and placed it on this table. So, I had a seat, relaxed sitting and drinking my coffee was a great start of this third day.
After coffee I went out to see some more of the city Kashiwa, just walking around and feeling the city, the people and the sun, it was hot!
Because the club we were going to play was at walking distance, Satoshi and I decided to stay in our rooms for a bit and get ready for the gig. Around 17:00 we had to be there to do a sound check, show time would be at 19:30, a normal time in Japan to start.
Studio Woo is a great jazz hall, it has a wonderful piano, great acoustic and a very friendly owner and staff. As we arrived I met the owner and handed him my cart and record I brought for him,my first album,The Abyss. After the rehearsal we went upstairs to the dressing room and made the first set. I am always struggling to make good sets, but my drummer, Gaku is good at these kind of things. As the club was getting busier with people coming in we went downstairs again and waited for a que from the owner. It was full!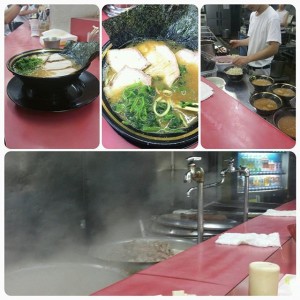 [gdlr_video url="https://www.youtube.com/watch?v=glk-tpCPJxw" ]After the show I talked with many people there, they had a great time. After packing up I went back with Satoshi to our hotel, off course we went to a ramen shop also, for a late night snack.
Because it was late and we had to drive for a bit to get to the club we were going to play the next day we walked back to the hotel and checked in. I did some skype, watched a movie and tried to get some rest. Sleeping was still not really working but resting is good also. The next day we had to go by car to our next gig, Café Up!
[gdlr_divider type="solid" size="50%" ]
4-9-2015 The fourth day, playin at Ups
[gdlr_video url="https://www.youtube.com/watch?v=dwKZHvfGlkM" ]
I started my daily routine this morning, getting my coffee at Starbucks, I was thinking about the concert from last night at studio woo. My expectations about the band, the songs and the way they grew on this first gig really gave me a feeling that I made the right decision and was looking forward to our second concert.
Because we had to drive for a while, Satoshi and I left the hotel around 14:00 and started our journey to Koga-city, more up north from Kashiwa. We had plenty of time so we took it easy and both enjoyed the beautiful scenery around us. The concrete jungle changed into a green landscape, full with rice fields and soya beans. Both Satoshi and I are really into nature and we both have a vegetable garden where we grow stuff we like. After a short stop at a petrol station close to the club in Koga-city we arrived at Ups café. There I met the owner, Mama-San and I checked out the place. Nice piano, great ambiance. The rest of the band arrived shortly and we did a short sound check and got a pre-dinner before the show started.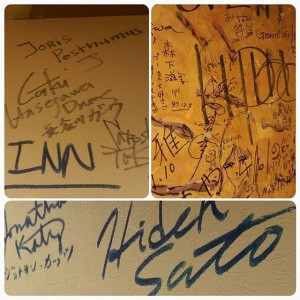 Syunichi, my piano player went all-in on some of the tunes, playing beautiful intro's to some of the songs but also played monster solo's. This was only the second time we played and already the band was sounding more together, and the tunes got bigger and bigger. After the show, we talked a bit, put our autograph on the wall of fame, had some more food and packed up the car for our trip back to the hotel in Kashiwa. The next day we had a concert at a stage I also played last year, cloud 9, Narita.
I spent the night in my hotel room, checking out some of the video I got from this gig and did some skype with my wife and kids. Sleep was still hard so I just rested to be ready for the show in cloud 9.
[gdlr_video url="https://www.youtube.com/watch?v=rXxjZwQsNPc" ]
[gdlr_divider type="solid" size="50%" ]
5-9-2015 The fifth day, of to Narita
As usual I started my day with a coffee at the Starbucks. Today we had to take a little drive to Narita, where there is a cool club I also played last year, Cloud 9.
Together with my friend Satoshi we left the hotel and started our journey to Narita, a cool drive with great scenery around us. Narita is more in the south of the Shiba prefect and is greener and nature based. Also for Satoshi it was a cool trip, so we both enjoyed the surrounding. Fields with rise and soya around us and hills filled with bamboo.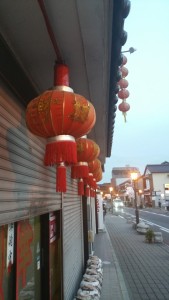 As we arrived in Narita and found a parking for the car I strolled around in the Centre of Narita. It's a place where lots of tourists come and the streets have a typical Japanese feel. Next to the club there was a café where I also went last year, so I went in said hello to the owner a got a free drink, Hoegaarden Beer.
After a short sound check the guys went out for a fast meal, and Satoshi found the perfect bar for me, Jetlag Club. As I am not a great eater before any show I just wonder around the streets close to the venue, it was getting dark already.
We did 2 sets a Cloud 9, and the place was packed full with fun people. The band was hitting it hard this night, great energy. After the show I talked with some people, packed our stuff and went on to the car for the travel back to our hotel in Kashiwa. The next day we were going to check out because the last gig was going to be in Tokyo. Also the studio was there so I would stay this second part in the same hotel, hotel Listen.
[gdlr_video url="https://www.youtube.com/watch?v=UiWucwiqNYU&feature=youtu.be" ]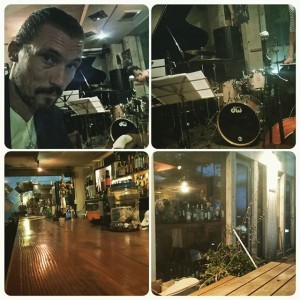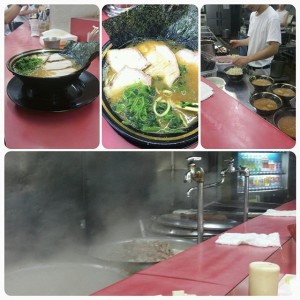 Before we were going to sleep Satoshi found a good ramen shop that was still open at this late moment in time. I have some footage of this, the whole line with guys working there, really cool to see. After this late night snack we got back in the hotel, changed our check out time to 12 o´clock. My night was like all the others, staying up, skyping and Facebook.
[gdlr_divider type="solid" size="50%" ]
6-9-2015 The sixth day, of to Tokyo for last concert at Tagen
This morning Satoshi and I had to check out of the hotel in Kashiwa around 12:00. We had to move to Tokyo, where we were going to play the last show before heading in the studio for 2 days of recording. These last 5 days went by so fast, already this group is sounding tight and strong. There is Great Spirit among these guys and they work so hard.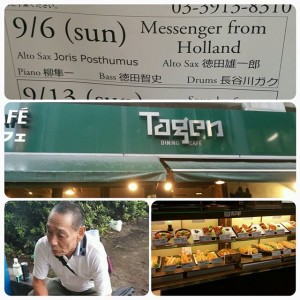 After packing up all our stuff we started our journey to Tokyo, where I booked a hotel to stay in for the upcoming 5 days. This night we had our last show at Tagen, Ogi, Tokyo. Its owner, Kazu also is a great piano player and a super friendly guy. He also plays with Yuichiro's band and he has a lovely place where they serve great international food and drinks.
Just under a 2 our drive we got into Tokyo, what a city! First stop was going to hotel Listel, Shinjuku area of Tokyo. This hotel would be my home for the last 5 days of my stay in Japan and its location was close to many of the hotspots around Tokyo. We had a couple of hours before the gig at Tagen would start so Satoshi and I rested a bit in our rooms. This last show would be a long one, 3 sets!
After a little rest and changing clothes we took the car and drove to Oji station, Tokyo. Tagen was around the corner of the train station so we parked the car for a moment and took our stuff out. As we were a bit to early I walked around the station for a bit. I remembered this place from last year, when I went to Tagen for a goodbye dinner with Yuichiro and Kazu.
Just before we started the first set I got a present from Kazuhiro Questkazu Sato. I met him on my last trip to Japan and he is a drummer and big fan of jazz. He spends his free time traveling around Japan to check out jazz from all over the world and he is a big fan of the Dutch jazz scene. The whole band got a present bag from him, so friendly.
[gdlr_video url="https://www.youtube.com/watch?v=1tVK7pDkF9g&feature=youtu.be" ]
This was our last show and we had the opportunity to play all the songs because we did 3 sets. It was busy, all tables we filled and we went all-in on this one. After the show I stayed for a bit to talk with my friend and manager of the place,Kazu. Satoshi and I left and went back to the hotel. The next day would be my first free day in six days so and I was really looking forward to this.
[gdlr_divider type="solid" size="50%" ]
7-9-2015 First free day
This day I had no plans really, but as always I could not just rest and do nothing, it's not in my nature. I started off by walking the city for a bit this morning. It's very special to walk around in Tokyo, everything seems to be more relaxed than other big city's I have been before. There is no trash on the streets, no cars using there claxon to express their frustrations.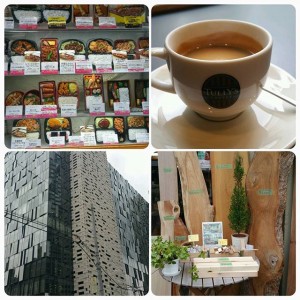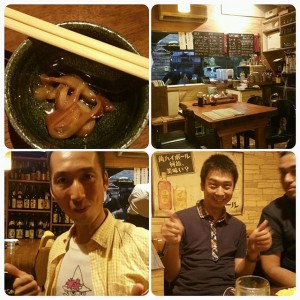 After some wondering around I went to a coffee bar to get my daily caffeine. Again jazz music surrounded me there. I think a big factor in why jazz is popular in Japan is that anywhere you go you will hear the sounds of jazz around you.
I got back to the hotel and did some social media stuff and relaxed for a bit. Around 15:00 I was going to meet my friend Kazuhiro, the drummer that gave me a great present at the gig in Tagen the day before. He was going to hook up with me so I waited in the hotel lobby for him to arrive. When he arrived together with a friend of him, also a drummer Shoichiro Aso and we ended up not far from my hotel to get some drinks and food. This is normal in Japan, there are no bars like we have in Holland where you just drink. In Japan it's mostly places where you both drink and eat. I was also going to meet my friend and a great guitar player Naoto Suzuki who also is the guitar player in Yuichiro's band. We played 3 shows last year during the tour that Yuichiro set up. When Naoto arrived at the bar we decided to go to a club, Pit Inn where we both played on my last tour in Japan. It's a great place and because we both already played there we got in for free. Also, they have special prices for musicians so whiskey for only 100 yen and beer for 150 yen, cheap prices.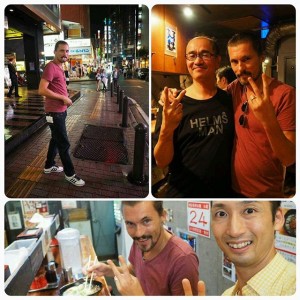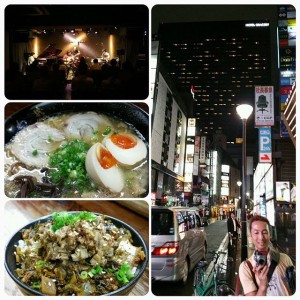 It's so cool to see what kind of people go to this club, very mixed, young and old. There was a big name in jazz playing there, a guitar player so we stayed at the club for both sets. After the show we talked for a bit with some of the members of the band, very friendly guys. Both Naoto and the friend of Kazuhiro had to get the last train, so we said our goodbye's . Kazuhiro and I went into the center of Tokyo because we both were in need of some good ramen. This part of Tokyo I did not see on my trip last year. Loads of places to go out, colourful people around us. We found a good ramen place after walking around and after our meal it was time to go back to the hotel, I had to be fresh for the upcoming 2 days of recording. Kazuhiro also stayed in a hotel in Tokyo, not that far from mine. Sleeping was still not happening for me but I rested and that's also a good thing. The big day, to get in studio was there soon, the whole purpose of this trip and I was feeling exited.
[gdlr_divider type="solid" size="50%" ]
8-9-2015 2 Days of studio time
This was the day, the day we were going to start recording the new album, Joris Posthumus Group, Tokyo's Badboys. Satoshi was going to pick me up from the hotel around 9:45, we had to be in NK Sound Tokyo studio around 10:00 and the studio was very close to my hotel.
[gdlr_video url="https://www.youtube.com/watch?v=mIFpThnqtn8″ ]
After loading our stuff from the car we got in the studio, everything was already setup by the crew of the studio.
Al that needed to be done was setting up the drum kit from Gaku and do some sound checking.
This first day was going to be the most important day because this was the only day we had the whole horn section complete.
Yuichiro had to fly to India for a tour the next day and I had arrangements for 4 songs with the 3 horns.
After meeting Neeraj I already felt completely at home. The studio had a nice vibe, warm and friendly. Also, the studio is brand new, Neeraj just opened this studio about a year ago. We had 3 booths, a drum booth, bass booth and a bigger room for the grand piano and the horns together. Neeraj really took the time to listen well to the horn section and set up his mics to get the best sound out of this reed section. Around 12:00 we started recording the first song, Tokyo's Badboys.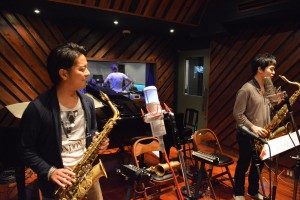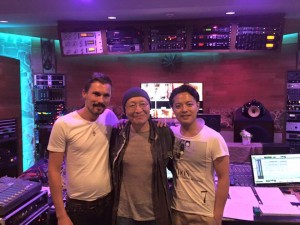 When we were recording the song One Eyed Felix a dear friend came by the studio, Mr Yagi. When Yuichiro and I did the april tour in holland he came by to see the show at Paradox, Tilburg. It was so good to see him again and we even got more energy from his presence. We were on a roll, most of the tunes we did in one take, something I prefer.There is something special with a first take, always.
Around 18:00 we took a break, already recorded all the tunes that I wrote for 3 horn section and also a song with me and Yuichiro. We went out to get some fresh air, and some drinks and food at a local Chinese place. But not like the Chinese restaurants I know from Holland, but really good and not expensive.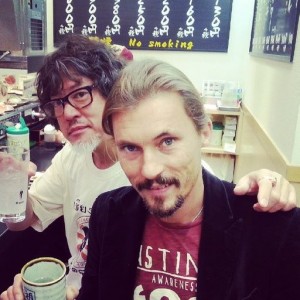 After this refresh we went back to record a special song, Mr. Amano, Strong Eyed Master. This song I wrote for Mr Amano is a great person, tv producer and musician. I met him on my tour in Japan last year and he is a great friend of Yuichiro and an inspirational man. We made two takes but the first one had the most presence.
Around 20:00 we finished up the first day of recording, did some bounces of the tracks so we could listen to it and Satoshi drove me back to the hotel. There is spent my night listening to the stuff we recorded that day and was very happy with the results. Skype to the family and listening to the tunes the rest of the night. The next day we would start a little later, around 12:00.
Photo's by Mr. Bano
[gdlr_divider type="solid" size="50%" ]
9-9-2015 second recording day
Around 10 in the morning I decided to get out of my room and get a coffee and a snack. It had been raining the whole day before and this day was no different so I just went across the street and got in a 24/7 store. I really love these stores and, compared to Holland, the quality is high and the coffee is good.
Satoshi was going to pick me up around 12 to go and do the second recording day. This day would be more relaxed so we took some time to relax and drink some coffee at the studio.
This day we would record the songs I had wrote for 2 horns, tenor and alto. Yuki is an amazing player and has incredible technique. We have a very good mix in sound and despite the fact that Yuki does not speak a lot of English we really hit it off. After recording the songs with Yuki we took a break and went out for a dinner not far from the studio.
After dinner we went back a finished the songs with just me, bass, drums and piano. We stayed for a while, had some drinks together and waited for Neeraj to bounce the tracks and prepare the hard drive for me to take back to Holland.
Gaku was a bit concerned for me because I had to take the train for my travel back to Holland. I would have one free day before my departure from Japan and I had an appointment with a drummer I met on my last tour in Japan. He did the gig with me and Yuichiro his band in Korea. Gaku gave Ryo Shibata a call to make sure I would take the right train to Narita airport.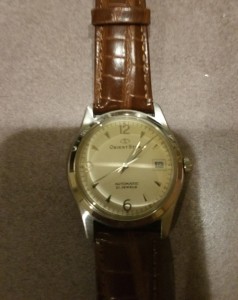 After packing up our stuff we sad ours goodbyes and Satoshi brought me back to the hotel.
There we smoked a cigarette and were both finding the right moment to say goodbye.
Satoshi feels like a brother to me, a spirit I have met before, maybe in another lifetime. After saying our goodbyes Satoshi gave a beautiful present, his watch. Last year I gave mine to Yuichiro and this time I got a present back, really nice. I went back inside the 24/7 store and bought some drinks and food to bring back to my room at the hotel.
After checking in with my wife and kids on skype and listening to the songs we recorded I went to sleep, yes, I slept for the first time. Tomorrow was going to be a fun day again, hooking up with old and new friends…….
[gdlr_divider type="solid" size="50%" ]
10-9-2015 Last free day
I woke up around 10 and went into the city to get some coffee. Today would be my last day before my departure back to Holland and I was going to meet with an old and a new friend.
Ryo Shibata is a drummer that did the show in Korea last year as part of Yuichiro's group. He is a real funny cat and a great drummer. It was great meeting up with him again, we also did my last free day together when i came to Japan the first time.
Also, I had a date to meet an American pianist, Tim Lyddon, that contacted me true facebook, he was staying and playing in Tokyo. He came to the hotel around 15:00 and we went into the city to get a coffee and exchange ideas about music. Around 18:00 my friend Ryo joined us and we were going to have a bite to eat and check out a session later that evening.
Tim also was joining us and we went to Sjinjuku station, Ryo was going to show me the right gate to Narita airport. This station is one of the biggest in the world so I was very happy that he was going to show me the right way to go. Also, he helped me to buy the right ticket and walked me to the gate to show me where I had to take the train. After being sure I knew my way around the station we took a train to the area where the session would be, it was only 3 stops so we were there in a flash. As it was still a little early we had some food at the cotton club.
The place was not very far from where we had our dinner, and the club, Intro, was super small and really busy. We had to pay a little bit to get in but we got a free drink. It was also the last drink I had to buy because after I played my first tune together with Ryo and Tim the owner, who also played alto sax kept passing me drinks and I kept on playing.
I was really impressed with the level of musicianship and had a great last night out in Tokyo. Around midnight, or maybe a little bit later, I had to leave and start packing my stuff at the hotel Listel. My train was leaving at 7 in the morning so there was not a lot of time left for me in Japan. After saying goodbye to Tim and Ryo I took a taxi back to my hotel and had a small dinner at the 24-7 store close to my hotel. I decided not to risk missing my train so I spent my last night at my room relaxing, smoking and watched a movie on my tablet.
[gdlr_divider type="solid" size="50%" ]
11-9-2015 Departure day
Around 5 in the morning I got my wakeup call from the front desk of the Hotel. I already had packed all my stuff, so I still had some time before my taxi was going to be there. At 6 the taxi would drop me of at the train station, so I went down to the lobby and waited there and checked out of the Hotel. The weather really changed and it was like the first day when I arrived.
My taxi was right on time, off course, so after a 10 minute drive we arrived at the train station.
It was still very quiet on the street so I took the time to make some last pictures with my mobile phone. My train was leaving at 7:06 so I decided, after checking where my entrance would be for the train, to get a coffee. I waited together with some more morning travellers in line and waited for the coffee shop to open, again right on time, 6:30. I am a coffee guy in the morning so after the order arrived I went inside the smoking area of the café. Everybody had their own ashtray and when leaving, you had to bring it back to the front where it got cleaned right away.
After my coffee break I went to my train and waited at the right number on the floor from where my train would arrive. There I had a brief conversation with a girl that had to travel to the airport also, back to Hong Kong. She worked for a record company that promotes pop music and she had a business meeting in Tokyo.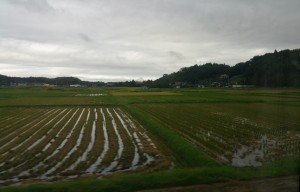 The train was right on time so I went in to find my seat number. It was going to be about 90 minutes before I would reach Narita airport and I was looking forward to hit. You have some nice views from the window so I just enjoyed both urban and nature views. Because of the 2 typhoons from the days before there was a lot of water in the rivers you pass on this trip. The north part of Tokyo had a lot of trouble with the water and some parts were completely under water.
I arrived at Narita airport in time and I will spare you the whole check inn procedure, its the same anywhere i guess.
This whole journey had come to an end, at least the first part of it. I really did a lot of things during these 11 days, most important, the album recording but I also enjoyed Japan again this second time. Meeting new and old friends, the travel, the music.
One thing is sure, the people really know and enjoy jazz in Japan, and there is a great scene out there.
The whole group really performed well during our concerts and studio recording days, a team effort.
I already knew I was going to miss these guys, there energy and spirit and I was looking forward to the next time we were going to meet up. Domo Arigato!