Japan tour 2018, day 8
I started this morning with my daily doses of coffee. I found a nice place not that far from my hotel, close to Baba station. The coffee was hot and the WIFI was fast. There would be enough time this day to do some more exploring because the venue we were going to play that night was not going to be a long drive from my hotel. Walking the streets in Tokyo is always fun, the colourful advertisements, fashionably dressed people and a billion places to eat makes time goes by fast. I also like to check out the big stores with electronical stuff and I usually find a record store to sniff around the shops inventory.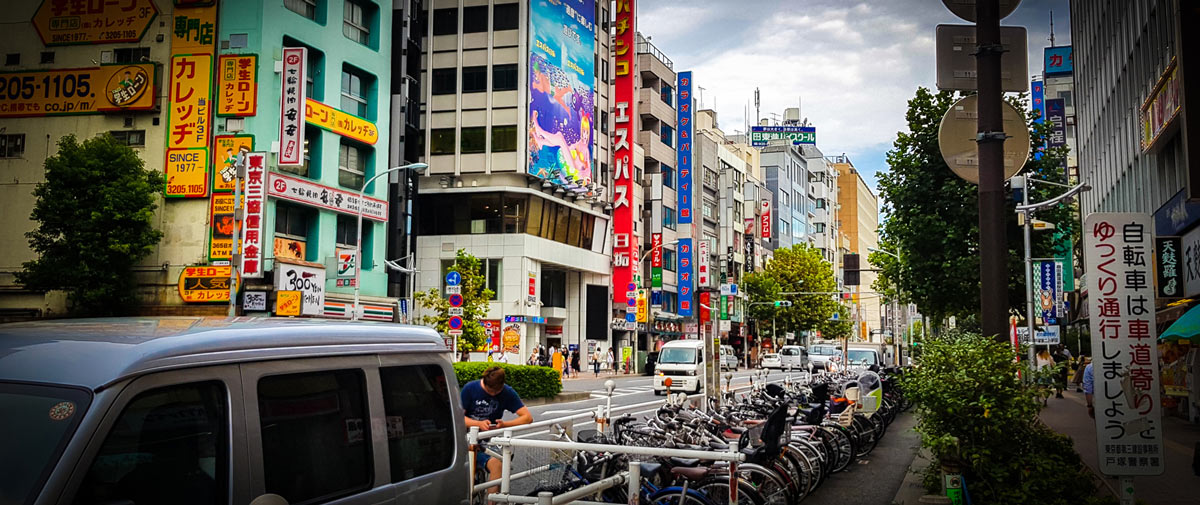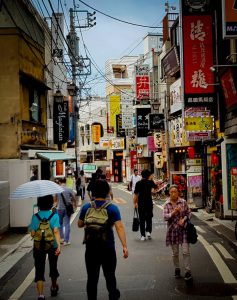 Although this is my fourth time in Japan and I had some great experiences along the way Japan is still mostly a mystery to me. It's really another world but somehow it feels natural to me and I really like the general respect and peace around me when I am there. What I do know is that Japanese people love to cultivate and develop. To take something and make it your own. You can find these trademarks all over; in art, food, language, music and lifestyle.
For me as a jazz musician there is a wonderful world full of venues to play in Japan. Most of the smaller clubs are private owned but even some bigger stages also. This concert that was coming up was a new place for me. The venue  does not really have a name written in Latin characters, only Japanese but the guys in my band call it Salt Peanuts.
Around 18:00 Satoshi picked me up at the hotel, and after a drive of about 1 hour we arrived at the venue. Because Satoshi needed to find a parking space I already took out my instrument and went into the direction where Salt Peanuts would be. It took me some time to find it, and it was a small stairway down. Inside the club had a nice vibe, with off course salt peanuts on all the tables. It had a beautiful painting all across the main wall.
Already the other guys were there and also Yuki Nakae, it was great to see him again! I think Yuki is a very talented sax player with amazing technical ability and more and more he is finding his own sound and way of playing. Just before we would start to do a short rehearse I found out I forgot my sax strap, it was still in the hotel room. Fortunately I was saved by the bell because Shunichi called up a friend that lived close to the club and he took of to borrow it for the night.  After about 15 minutes Shunichi was back and so we could start a short heads and tales of the songs we were going to play as a Quintet that night. It's so easy to play with Yuki, we have a good mix of sound together, and it was all very easy and comfortable. It was also nice to meet Sanae Imakiire again. I met her when I played with Yuichiro his band at the Jarasum Jazz festival. The 2 pictures are from her. I would meet her again at the show we were doing the next day, Studio Wuu.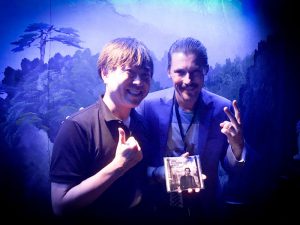 The concert was a great success, the band was smokin' and Yuki was playing hard as always. Salt Peanuts is a really nice club with a wonderful owner, and he had some special beer for me, from Holland:) After the show I met a man who had my first album, Joris Posthumus Quartet with him, and I signed it for him. After the show me and Satoshi left with the car and made a stop for some late night ramen at the shop we went on the day we arrived in Tokyo, the fish tank place. There I was invited by Satoshi to try something special, it was going to be good for my body he said. It consisted of raw meat, raw belly from a cow and liver. After this starter we also had some ramen, and I think this was my best one so far. After this meal Satoshi dropped me off at the hotel and before i went to bed i did some video calls to different people in Holland. The next day we would play a show with the complete band at studio Wuu, Kashiwa.
[gdlr_row]
[gdlr_column size="1/3″][/gdlr_column]
[gdlr_column size="2/3″]
[/gdlr_column]