Japan tour 2018, day 7
 Cloud 9, Narita
I woke up kind of late this morning, after taking a shower I went outside to check the area around the hotel.
This would be my 'home' for the rest of this tour, a neighbourhood in Shinjuku, Tokyo Takadanobaba.
The weather was back to normal, no typhoon anymore. Because Satoshi would pick me up around 16:00 I had plenty of time to check out Takadanobaba. The street of the hotel was full with places to eat, and in general very cheap prices.
I think it's a misconception that Japan is so expensive and I feel Holland is more expensive with most things, especially food, public transport and hotels is very affordable in Japan. Gaku had arranged this hotel for me for a good price. It was brand new, they just opened a few months before.
In general most hotels I stayed in have perfect service, are super clean and the staff is usually very helpful.
My hotel was very close to the train station and I found a nice coffee place in a big shopping centre just across from the station. After my daily coffee I spent some time walking around the busy streets of Takadanobaba and did some soba in one of the many places in this area.
Most of the people in this soba place were students and although Japanese people in general are shy, somehow I always connect with them.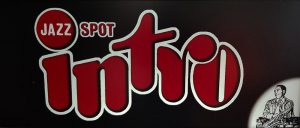 After this 'fast' food I walked back to the hotel passing by a famous spot for young jazz players, Jazz Spot Intro. Some years ago I went there together with Ryo Shibata to play at the session they have there almost every night.
Jazz Spot Intro is a place for young talent to play and there are many young musicians playing there all the time. I love sessions but because off my schedule on this tour I would not have an opportunity to check out one of the sessions during this trip.
At 16:00 Satoshi was ready to pick me up at the hotel and we drove to Narita. I took about 90 minutes to get there but the trip was relaxed and I took some time to make some vids of this trip.
This would be the first time during this tour I would meet up with my friend and sax player Yuichiro Tokuda. He arranged the concert we were going to do that night at Cloud 9. When we parked the car Yuichiro was already outside of the club and it was great to see him again.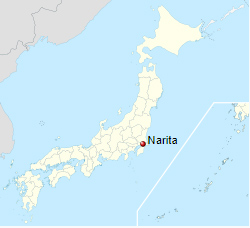 Narita (成田市 Narita-shi) is a city in Chiba Prefecture, Japan. It is the site of Narita International Airport, the main international airport serving the Greater Tokyo Area.
The area Narita has been inhabited since the Japanese Paleolithic period. Archaeologists have found stone tools dating to some 30,000 years ago on the site of Narita Airport. Numerous shell middens from the Jōmon period, and hundreds of burial tumuli from the Kofun period have been found in numerous locations around Narita. Place names in the vicinity of Narita appear in the Nara period Man'yōshū (although the name "Narita" does not appear in written records until 1408). As Narita is located roughly equidistant from the Pacific Ocean and Tokyo Bay, around a number of small rivers, it was a natural political and commercial center for the region, and gained importance as a pilgrimage destination with the foundation of the noted Buddhist temple of Shinsho-ji in 940 AD.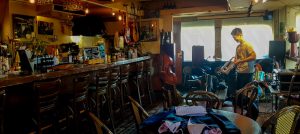 This was my fourth time to play at Cloud 9 and I got a warm welcome from the owner, Toshiharu Ohura. Gaku and Shunichi were already there and after a quick sound check and rehearsal Yuichiro invited the whole band to eat at a restaurant of a friend of his, Takehiko Isikawa. I did this 2 times before and it's very special. Together we walked the street of Narita and because we were a bit to early we first went in another place for some snacks and Super Dry beer. After this intermezzo we went to the restaurant and it was cool to be there again. As always the food was amazing and we got some strong Sake that was very good. After this dinner we went back to Cloud 9 and shortly after started the first set. Cloud 9 is a real jazz bar, it has lots of ambiance and it's always hot and smoky, just as these kind of places supposed to be in my opinion. There was lots of energy on stage this night and we went all in.
[easy-image-collage id=7159]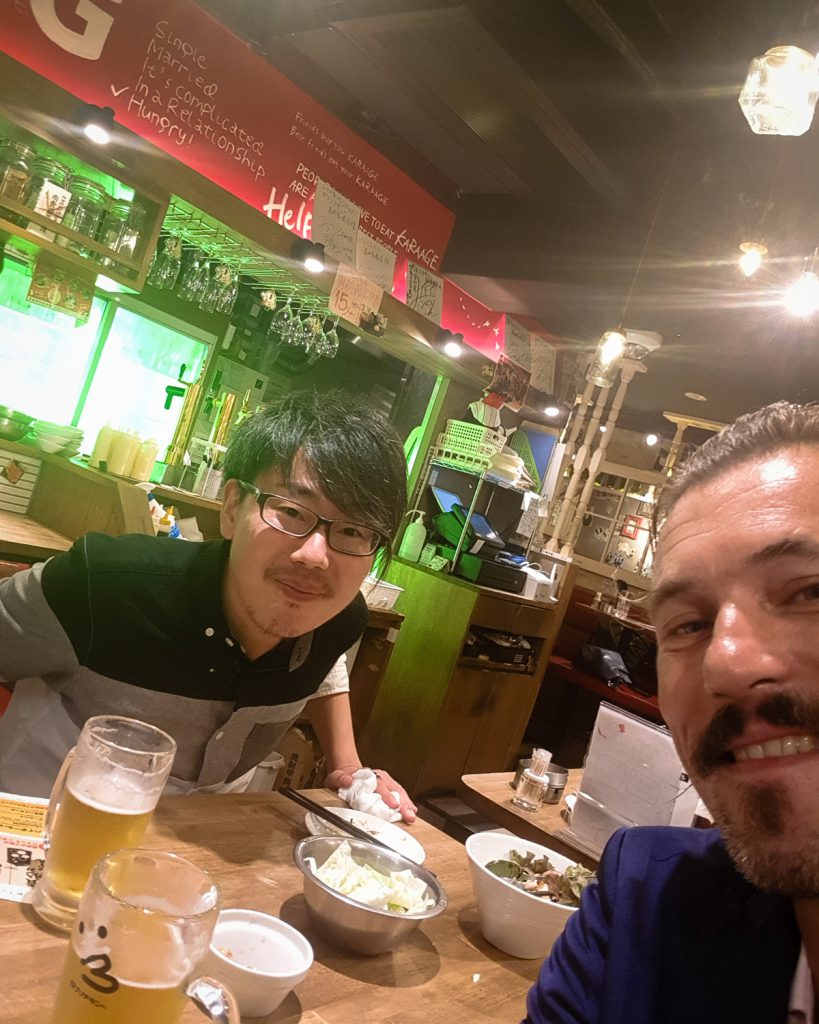 In between set's I made a ritual the last couple of years to go to a place close to Cloud 9. The funny thing is that every time I go there it's completely different, the owner, the menu, but somehow it always feels relaxed. This year it has changed into kind of urban styled game café, with soft tip dart and old school pinball machines. Because of Narita being a hotspot for arriving and leaving tourists and also ex pats, most young people talk fairly good English.
After this concert me, Satoshi and Shunichi drove back to Tokyo, and I agreed with Shunichi to have some drinks and some food at a bar very close to my hotel. Shunichi also has his house close to the neighbourhood. Although Shunichi's English is not that great we always connect. Shunichi is a very special person, a kind and gentle spirit and an very talented piano player and he is like a brother to me.
This bar was specialised in fried chicken and many different kinds of drinks. The owner was a very funny guy and also very tall.After this late night date with Shunichi I went straight to bed, the next day I would meet up with Yuki Nakae, my tenor player. We were going to play a show as quintet in a club in Ekoda, the club name was Salt Peanuts.
[gdlr_column size="1/3″][/gdlr_column]
[gdlr_column size="2/3″]
[/gdlr_column]