Japan tour 2018, day 6
Travel from Nagoya to Tokyo, Typhoon before Noon.
When I woke up I could already hear the storm outside of the hotel. This day Satoshi and me would travel to Tokyo to start the second part of this tour. Because Satoshi had some things to do in the morning, the plan was to travel around 12:00. Gaku and Shunichi would already leave Nagoya more early this morning.
I got downstairs in the lobby around 10:00 in the morning. I was on my way to the last coffee ritual and a short from my hotel there was a Starbucks place. The weather was changing by the minute and already rain was starting to come down hard. Satoshi was texting me and already the plan had to be changed, it would be unwise to start the trip back at 12:00, the typhoon was already on its way to hit Nagoya. Because I was not really in the mood to spend my only free day in Nagoya I tried to get some information about the Shinkansen train at the hotel desk but soon found out this was not an option anymore. All the train traffic was postponed until further notice so there was no way out at this moment, just be strong, be water and don't think.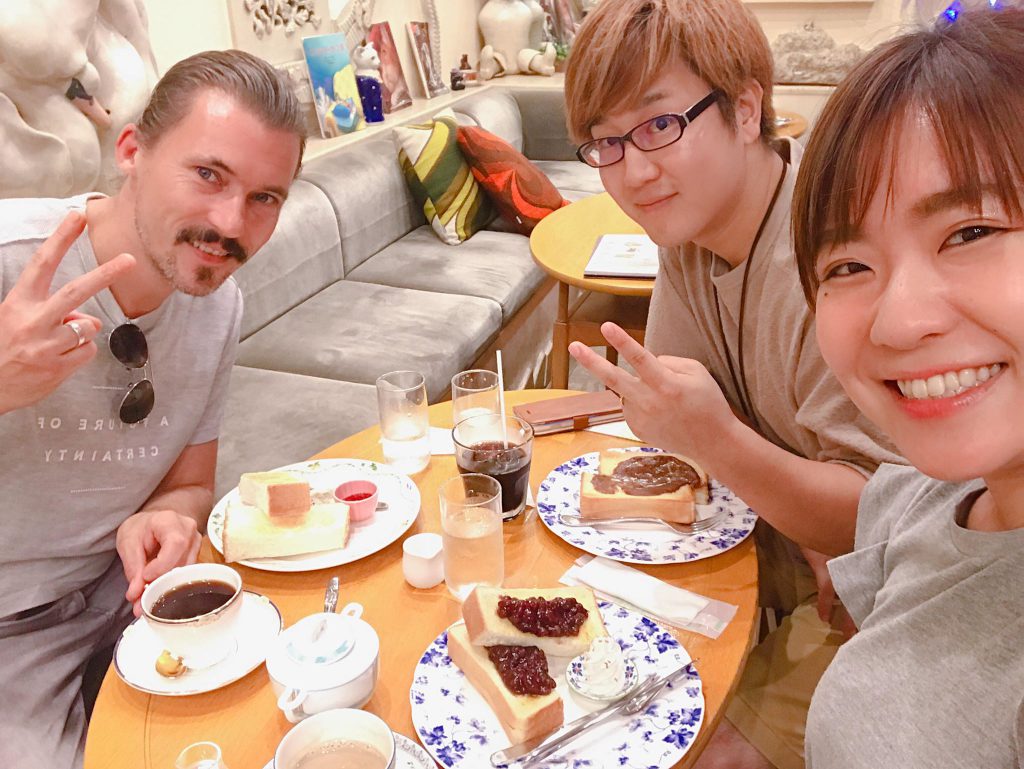 First I would meet up with pianist Shota and his wife Shiho. They had invited me to a breakfast with them and they picked me up at 11:00. It was so nice to see Shiho and Shota again. 2 years ago they visited me when they were on a trip to Europe.
We spoke about lots of things and it was the perfect ending for this first part of this tour in Japan for me. After this wonderful time with Shota and Shiho I got dropped off and because I needed to check out before 12 anyway I decided to pack my suitcase and ask the desk if they could put it at a safe place together with my sax. Of course, this was no problem at all so after dropping my stuff I decided to check out the storm and make some movies of the whole thing.
Outside of the hotel it was already getting crazy, heavy winds and lots of rain. After some time walking around it was getting a bit too dangerous, things started to fly around in the air so I got back in the hotel. I got updated by Satoshi, we would try to leave Nagoya around 18:00, and the typhoon would have past Nagoya that time.The lobby of the hotel would be my place to stay the rest of the day, and I just made some video calls to people in Holland. Around 18:30 Satoshi picked me up at the hotel and we started the trip to Tokyo. I would be staying in the same area for the rest of the tour period and would stay at Takadanobaba, a neighbourhood in Shinjuku, Tokyo.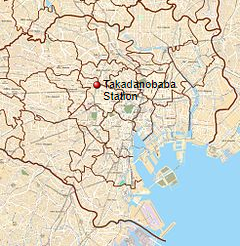 Apparently Takadanobaba is home to the 9th busiest train station in the world. That being said, it is still quite a minor stop on the famous Yamonote circle line. The main feature of this area is that it is a big hangout spot for students. The surrounding area of Takadanobaba is often referred to as "Baba". It lacks the history of nearby Waseda and Mejiro, often conjuring up images of a student spot with its many cheap bars and izakaya serving the needs of students at nearby Waseda and Gakushuin universities.
The trip to Tokyo was really something else, the typhoon had really hit hard and everywhere you could see the damage it had done. On the news the big story was about a boat that had crashed into the bridge connecting the Kanzai International Airport to Osaka, of course this was a big problem for anybody that was traveling at that moment.
Still the winds were very strong and it was a big challenge for Satoshi to keep the car on the road and I must say, Satoshi is a very skilled driver. We did some stops along the way and around midnight we were getting close to Tokyo and did a final stop. This stop was also good for tour expenses, if you use the highway after midnight it is cheaper and Satoshi was keeping an eye on the financial part of things.
[easy-image-collage id=7088]
Before Satoshi would drop me off at the hotel I was going to stay we decided that we were in the mood for some late night ramen and naturally Satoshi had something in mind. This ramen shop was open until very late and also did not open that early, kind of a night shop ramen. This shop was very different, all around me there were fish tanks with all kinds of exotic fish, not for eating, just for fun, because the owner likes it. The ramen was one of the best I had so far on this trip and I already agreed with Satoshi to go again. After this late night ramen we drove on to my hotel, the next day we would have a gig in Cloud 9 Narita.
[gdlr_column size="1/3″][/gdlr_column]
[gdlr_column size="2/3″]
[/gdlr_column]