Japan tour 2018, day 3
Kobe, Born Free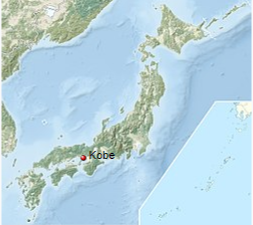 This day started for me same as always, I went out to get some coffee at the local starbucks close to the station. We were going to travel to Kobe that day and I had some time to spare before we would start our journey.
At the back of the station was a big shopping mall so I just spent my time there walking around. Even though there are many people in Japan it does not feel busy to me but if feels relaxed and calm. I met up with Satoshi at the Starbucks and together we walked to the shopping area where Yuuki would be hangin out. Yuuki loves to buy clothes, therefore I made up a nick name for him: fashionable Yuuki. During this tour I would make up many nick names for my band members and myself. Let's do lunch, Satoshi said and so we did. After lunch we started our trip to Kobe to play that night in Born Free. For this concert tenor player Tsutomu Takei would join the band.
[easy-image-collage id=6793]
I am not a big fan of long car drives, but with Satoshi it's always very pleasant. There is great music to listen to and we take enough smoking/eating breaks. It still amazes me how green and visually interesting the views are in Japan and every place where there is some room for growing food is used. The mix of green, with organized field of rice, the hills and mountains in the background all seem to fit just perfectly together. We were a little bit too early so we stopped for a while close to the port of Kobe.
The Port of Kobe is both an important port and manufacturing Centre within the Hanshin industrial region. Kobe is the busiest container port in the region, surpassing even Osaka, and the fourth-busiest in Japan. Kobe is most famous for its Kobe beef and Arima Onsen(Hot springs).

When we got at the venue Born Free, Tsutomu Takei  tenor player was already there to greet us and also Kei Morishita was setting up the drum kit from the club. Born Free is a nice place, a real jazz bar and has a long history. We did a short rehearsal and I was really happy to be playing again with Tsutomu. He has a very melodic way of playing, a great sound that really works well with my own, also he is a really relaxed person and a funny guy to. We had a great time, and it was cool to hear the tunes with the tenor and alto combi. After the show I thanked Kei and Tsutomu for their hard work, this was the last gig with this band. The next day Satoshi me and Yuuki would meet up with my Bad Boys album ritme section. Gaku Hasegawa on drum and Shunichi Yanagi on piano would join the rest of the tour. Also, Yuuki would be playing trumpet for the next 2 shows and Nana Sakamoto on trombone, she would also join the group for these 2 concerts. I would have the dream line-up, consisting of 3 horn.
[easy-image-collage id=6800]
Before Satoshi me and Yuuki would start the car trip from Kobe to Nagoya, we first did some ramen.
I would stay the night at Satoshi his place in Nagoya. We dropped Yuuki at his home, not far from Nagoya. The next day Yuuki would pick up Nana an drive to the place we were going to play.
We arrived at Satoshi's place late and right away I felt very welcome and had my private room there. After 2 super dry beers I went to sleep.
[gdlr_column size="1/3″][/gdlr_column]
[gdlr_column size="2/3″]
[/gdlr_column]