Japan tour 2018, day 2
Kurashiki, Piano Hall Avenue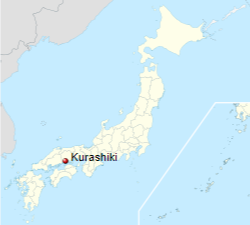 I went out to find a Starbucks, and waited for Yuuki Hirate. Yuuki would join the first 4 shows and would play 2 shows on piano and the second 2 on trumpet and flugelhorn.
This tour for me was about 2 things: to check out the new tunes and to work with some different players.
Yuuki arrived at the station at 13:00 so I picked him up at the station and together with Satoshi we went out for lunch. We were going to meet at the club at 18:00 for a rehearsal, show would start at 19:30. This first show had the following line up:
Satoshi Tokuda, double bass, Scott Chatwick, trumpet/flugelhorn, Kei Morishita, drums and Yuuki Hirate, piano.
[easy-image-collage id=6767]
We finished lunch and Satoshi dropped me of at the hotel where I took some time to rest and get ready for the first show. After a short sleep I got my stuff together and went down to the lobby of the hotel. The club we were going play was Piano Hall Avenue and I took a taxi to the venue because it was raining a bit. The taxi could not drive me all the way to the club but dropped me of close to it. After some walking around I did not seem to find the club so I gave Satoshi a call. He walked to the place I told him I was going to be.
After the sound check and a short rehearsal we took some time to make the sets for this first gig. It was great that Scott could join us this first night. He would also function as my google translator this concert. Scott already lived in japan for more than 2 years, so his Japanese is very good. I really was impressed by the level of Yuuki and Kei, both are still very young but that did not seem to matter at all. Also, it was great to hear the tunes I wrote for the first time played by a band. After the show we stayed at the club for a bit, talking with people and relaxed.
[easy-image-collage id=6771]
More photo's on my photo page here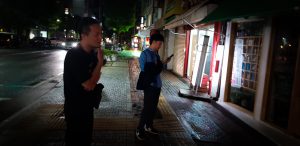 After packing our stuff Yuuki and Satoshi and me took the car and we went on the hunt for a good ramen shop that was still open, and we found one. Because it was very busy, we had to wait for a while outside of the shop. After this 'fast' food we went our separate ways. We would meet up again the next day and travel to Kobe for the second show of this tour. I spent some time calling home and because we would leave to Kobe the next day I already packed my suitcase before going to bed.
[gdlr_column size="1/3″][/gdlr_column]
[gdlr_column size="2/3″]
[/gdlr_column]