Japan Second Day
2-9-2015 Second day, rehearsal, food and…… food.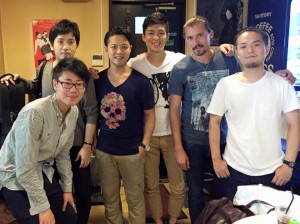 The second day I had planned a rehearsal to check out the tunes with the whole band. Shunishi, my piano player had booked a room for us, five train stops from my hotel. Together with Satoshi we jumped the train to the practice room. The train system in Japan is very efficient and always on time!
Neatly packed inside the train we headed to a different part of Kashiwa to meet up with the rest of the band. This was the only opportunity to play the songs with all band members, it was the tenor players only free day and he would meet up with us again in studio.
I felt great seeing all these guys again after almost a year. After a good rehearsal of about 3 ours we left to get some food and drinks at a nearby restaurant. We stayed for about 3 ours and parted our ways. Together with Satoshi I took the train back to our hotel. Both me and Satoshi were a bit tired so we agreed to rest for a bit before we would head into town to score some ramen. I always try anything out, and Japan is a great place to eat, everything is very clean and of the highest quality.
This time I tried to famous Mountain Ramen, great!
After dinner we went back to the hotel to sleep and get fresh for our first concert at Studio Woo. Unfortunately again my sleep was not happening and so I spent most of the night being on skype with people from Holland.