Japan fourth day
4-9-2015 The fourth day, playin at Ups
I started my daily routine this morning, getting my coffee at Starbucks, I was thinking about the concert from last night at studio woo. My expectations about the band, the songs and the way they grew on this first gig really gave me a feeling that I made the right decision and was looking forward to our second concert.
[gdlr_video url="https://www.youtube.com/watch?v=dwKZHvfGlkM" ]
Because we had to drive for a while, Satoshi and I left the hotel around 14:00 and started our journey to Koga-city, more up north from Kashiwa. We had plenty of time so we took it easy and both enjoyed the beautiful scenery around us. The concrete jungle changed into a green landscape, full with rice fields and soya beans. Both Satoshi and I are really into nature and we both have a vegetable garden where we grow stuff we like. After a short stop at a petrol station close to the club in Koga-city we arrived at Ups café. There I met the owner, Mama-San and I checked out the place. Nice piano, great ambiance. The rest of the band arrived shortly and we did a short sound check and got a pre-dinner before the show started.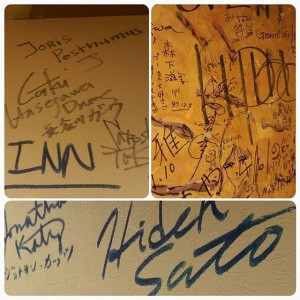 Syunichi, my piano player went all-in on some of the tunes, playing beautiful intro's to some of the songs but also played monster solo's. This was only the second time we played and already the band was sounding more together, and the tunes got bigger and bigger. After the show, we talked a bit, put our autograph on the wall of fame, had some more food and packed up the car for our trip back to the hotel in Kashiwa. The next day we had a concert at a stage I also played last year, cloud 9, Narita.
I spent the night in my hotel room, checking out some of the video I got from this gig and did some skype with my wife and kids. Sleep was still hard so I just rested to be ready for the show in cloud 9.
[gdlr_video url="https://www.youtube.com/watch?v=rXxjZwQsNPc" ]