Japan First Day
1-9-2015 First Day, departure and arrival.
On the first of September 2015 I started my second adventure to Japan, to record my new album with some great Japanese musicians, whom I had met on my last tour to Japan, October 2014.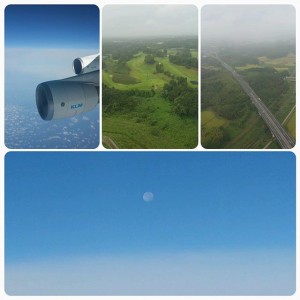 I was dropped off by my management at Schiphol airport to go on a 10 ours and 15 minute flight to Narita, Japan. KLM made sure I could bring my saxophones as hand luggage so after putting it in a storage on board I found out that I had the 'best' seat, the one in front near the exit so there were no chairs in front of me and I had a window view.
As I am not the best sleeper, I had decided to watch 5 movies and sit it out. While I watched some pretty bad videos my mind drifted off on things that were to become. The last couple of moths I had been working hard together with my friend and piano player Jacob Bedaux. Together we arranged tunes for this album that would feature more horns on some of the tunes that I wrote.
Landing in Narita, Tokyo is always a great joy, right away you feel the balance and perfection around you. After checking true the customs I waited for my pick up, my friend and also a great alto player Yuichiro Tokuda was going to pick me up from terminal 2. Together we went by car to our first stop, to go to temple in Narita city. As we went true the rituals Yuichiro and I both felt that this project was going to be special, and were looking forward to this journey. After relaxing for a bit and walking around we went back to the car.
My first stop would not be Tokyo but Kashiwa, more up north of the Chiba prefect. There I would meet up with my basplayer, Satoshi Tokuda. He came all the way from Nagoya so he would join me at the hotel we booked there to stay for the first five days. As we were a bit to early to check in yet, Yuichiro and I  went out for a coffee in Kashiwa and checked out the club where we were going to play our first show, Studio Woo.After checking in the hotel I relaxed for a bit, walked to city and waited for Satoshi to arrive.
When he came we decided to go out to eat and drink to celebrate our first day in Kashiwa and the upcoming period of working hard to reach the two days of recording. After a great meal and lots of talking about music we went back to the Kashiwa Plaza Hotel were we both went to our room. While my jetlag was starting my sleep did not happen that night. Walking around in the hotel lobby with my tablet was the best option at this time.