Album release tour Japan 2016 the first 3 days
[gdlr_row]
[gdlr_column size="1/3″][/gdlr_column]
[gdlr_column size="2/3″]
Album release tour Japan 2016, Joris Posthumus Group,
Tokyo's Bad Boys.
The first 3 days,
preparing for the first show at Pit Inn, Tokyo
After a flight with KLM of about 11 ours I arrived on 1/11/2016 at Narita airport, Japan. This was the start of something I've been planning for little more than a year.
In September 2015 I recorded the album Tokyo's Bad Boys together with my band the Joris Posthumus Group and now, a year later, we were going to do a tour to promote this new album in Japan, released by Challenge Records International on 9 september 2016.[/gdlr_column]
[/gdlr_row]
Waiting in hall 2 for Yuichiro, he was going to pick me up as he has been doing for the last 3 years, I relaxed for a bit after this long flight. Luckily there are many smoking areas on this airport and so I did. I always try to be as open as possible and I met this guy Sjoerd, also from Holland and he was going to do a big trip around the world. He was in transit for his next flight to Australia and we shared a couple of beers. After about 60 minutes Yuichiro picked me up and we went on our way to my hotel in Chiba, where I would be staying for this first night. When we got at the hotel I checked in and together with Yuichiro went out in the city Chiba for some food and drinks. The food is always exceptional in Japan, and this time it was sushi we started with, it was amazing.
[gdlr_row]
[gdlr_column size="1/3″]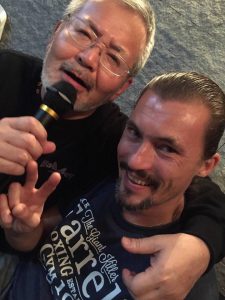 [/gdlr_column]
[gdlr_column size="2/3″]
After this dinner Yuichiro had to give some lessons so I went back to the hotel to get some rest. We would meet a little later that evening for a party I was invited for. Around 20:00 I went out to check the surrounding of the area of my Hotel. Chiba is a great place to be, it's not like Tokyo but has many places to eat and drink and has a relaxed vibe in general. After some wondering around I met up with Yuichiro again and we walked to the place where I was going to meet a man I also met 3 years ago. Ofcourse there was food there, real comfort food. Mr Koda and his wife Maggy were very happy to see me and Mr. Koda even sang me a song, yeah, karaoke.
After a great night out I went back to my hotel for a good night sleep, the next day I was going to hook up with the rest of the band to do a rehearsal at a small jazz club Donfan.
[/gdlr_column]
[/gdlr_row]
[gdlr_divider type="solid" size="50%" ]
Day 2.
Meeting the band again, practise time.
After a short night of sleep I woke up around 9 in de morning and packed up my stuff at the hotel, went for a walk to the train station in Chiba, close to my hotel where I would meet with Yuichiro again. We were going to do a rehearsal with the band and took a train to get there easy.
The place was a small jazz club, Donfan. It was so cool to see the whole band again, Yuki, Satoshi, Gaku, Shunichi, I really missed these guys and from the first moment we started to play everything felt so right. This was a tight group, full of energy and spirit. After 2 hours of playing we felt cool with all the songs, finished the rehearsal and went out to have some food and drinks. From here I would go to my next sleeping place, a private guestroom somewhere in bay side area of Tokyo.
Together with Yuichiro I took a train and met the man who provided me with this great guestroom. It was an amazing location and super big! After dropping of my stuff at the room we were invited to have dinner with this friendly man Mr Saito and his daughter Tamaki, who was also going to be a translator this evening. After an amazing dinner Yuichiro and I went out to meet Mr. Amano. It was great to see him again and he was also going to see the show at Pit Inn, the next day. Together with Mr Amano I walked to the train station to get a ticket and find the right track. After saying goodbye I went on my way and took the train back to bay side Tokyo to my apartment. I had no trouble finding the place and after a quick stop at a local convenient store I went to my room for the coming 2 nights. I was like a room for a king and went to bed soon after.
[gdlr_divider type="solid" size="50%" ]
Day 3.
Pit Inn, first show.
[gdlr_row]
[gdlr_column size="1/3″]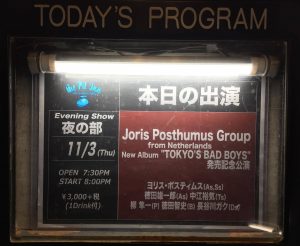 [/gdlr_column]
[gdlr_column size="2/3″]I woke up around 10 in the morning, I had to be in the club for a sound check around 18:00.
I just relaxed and wondered around the apartment.
Around 15:00 I walked to the train station to get on a train to Shinjuku station, from there I walked to the Pit Inn making an brief stop at the Starbucks coffee. The last part of my journey true the maze of Tokyo I used my google maps and got at the club around 17:45. Already the Pit Inn crew was working hard to get everything ready for the show that night. After greeting the manager I checked out the piano and got my horns ready for action. This was going to be an important night, the first show is always a special thing and I was realy looking forward to it. Pit Inn is a wonderful club with an old history, they have shows on a daily basis. When I went to see a show here last year during the album recording I did not have to pay to get in, its custom for people who have played here that they get in for free and also can order drinks, beer and whiskey with reduced prices. How cool is that![/gdlr_column]
[/gdlr_row]
After sound check all was ready for the show and people were already lined up outside of the club, it was a full house!
I was going to present the album officially to Mr Amano, he wrote the liner notes for this album and was a great inspiration to me to start this whole adventure.
It was a great night and we sold many copies of the album on this first show.
After the show I spent some time with my friend Kazuhiro, I already met him 2 times before and like always he brought lots of presents for me and my family.
We went out for a late night ramen and some drinks. Around 3:00 I took a taxi back to my apartment and had a good night sleep.
The next day me, Yuichiro and Satoshi had a long drive ahead to Koga, to play a show at Up's.