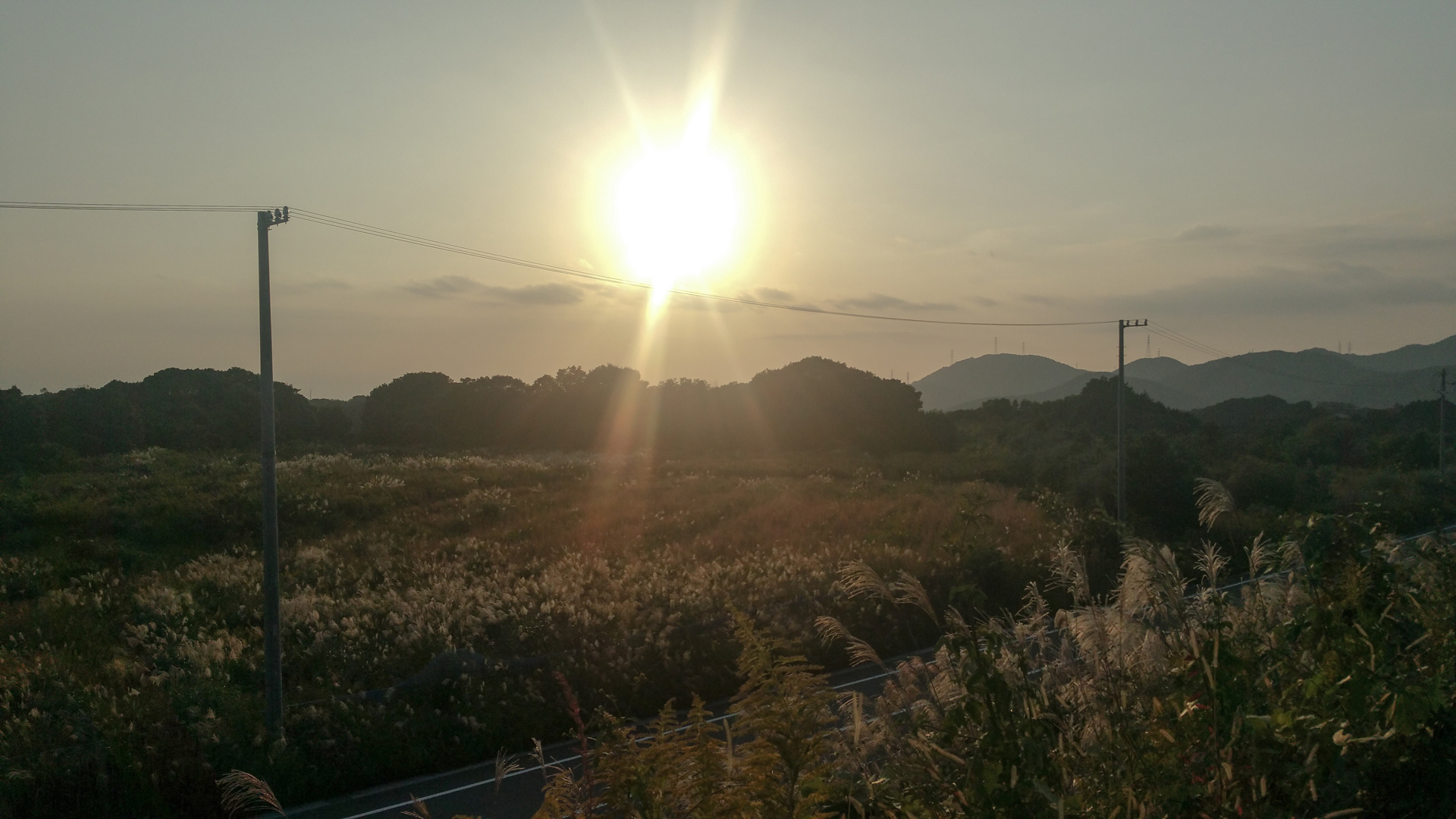 Album release tour Japan, day 7, 8 and 9
Day 7. (348 km)
Lovely, Nagoya
This day we had to drive all the way to Nagoya, this was going to be a long drive so we left early from the hotel in Chiba to pick up the rest of the group.
The surrounding was spectacular, green, orange, yellow coloured hills with many thee farms on them. The hills became mountains and we even saw Fuji mountain because it was a clear day. Satoshi always has a lot of music with him to listen to and at one point he was playing this trombone duo. I asked him about it and he told me it was a girl of 19 years old that also lived in Nagoya, Nana Sakamoto.
We decided to ask her to join us that night in Lovely. Because the band consists of 3 horns, I did not bring any c parts, only tenor, but we send it anyways, she would transpose the scores here self.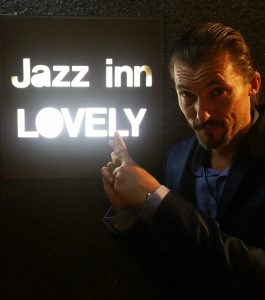 After several stops to eat and smoke we arrived at Nagoya, what a great city!
When we arrived at the club Nana was already there and well prepared and we did a short sound check. It was amazing to hear what Nana could do in that short time to prepare and for me it was nice to hear the tunes with trombone. The club Lovely is a very nice place, I played in this club the first time I came to Japan. It's a real jazz club, so you are close to the people. We did a good show and Nana really played very good that night. Also, Shota, a piano player who visited me when he was on holiday in Holland joint one tune, Blue for You. He is a close friend of Satoshi and already played this song with him on a gig they did some time before and he was killing it!
After the show me, Satoshi and Shota went out together for dinner. It was so cool to meet him again. After dinner we said goodbye and Satoshi drove me back to the Hotel I was going to stay that night.
Day 8. (170 km)
Always, Osaka
The next morning I woke up early and went out to check Nagoya city. It's really different compared to Tokyo. More open, more space.
I asked at the hotel lobby where I could find a good coffee place so they gave me a map. I was going to meet the band around 11:00 so I had plenty of time to walk around in Nagoya. After coffee and some walking around I went back to the hotel, packed my stuff and went downstairs to wait for the rest of the group.
This day we had a show in the city Osaka to play at a venue I did not play before, Always. Osaka is a really nice city and I was looking forward to see it again.
We got at the club early, because for this show tenor player Tsutomu Takei was joining the group and we did a good rehearsal and sound check.
Always is a very nice club, it's big and they have a good grand piano. After sound check we rested for a bit in the dressing room and made the sets for this night. Tsutomu Takei is a very good tenor player with a big sound and I was happy he could join us for this concert in Osaka to make the group complete on this night. He also plays the same horn as me, a super balanced action, but a tenor ofcourse.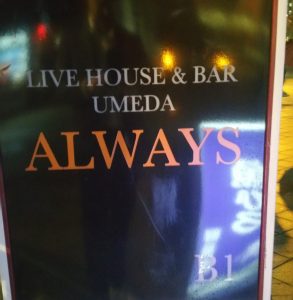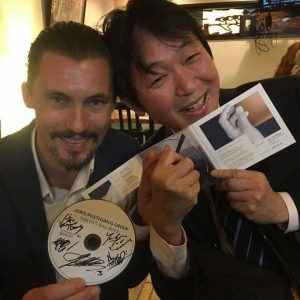 The club was getting more busy with people coming in and again I met some people I had met on my first tour, 3 years ago, but also got introduced to Mr. Shunichi Nakamura. He invited me and Yuichiro to appear on a radio show he has on Osaka radio.
We were going there 2 days after this show in Osaka. One of the people that was also there is a real jazz fan and a great person, Mr Masakatsu Kido. It was great to see him, and his friends again. After a good show he invited us for some drinks and food so we went out with him and his friends so we walked to the place he had in mind. It was a great night out in Osaka!
Day 9. (470 km)
Mahoroza, Machida, Tokyo
Sometimes you have to listen to your body, to be honest, you should always do this but it's just not always possible when you are on tour. For me, these couple of trips with the car were very hard for my body.
I have some issues with my nerve system, I won't get into detail but in short it's not so good for me to sit for long time in one position. Therefore I decided to travel separate from my band back to Tokyo with the Shinkansen bullet train. This would only take me about 3 hours to get back to Tokyo where we going to do the last show before I had 2 days free from touring.
I spoke with the band about this plan the night before and so after packing up from the hotel in Osaka the guys drove me to the station. Together with my drummer Gaku I went into the station and we bought a one way ticket to Tokyo. After saying goodbye to the band members I had some time to kill before my train would depart. I went for a coffee and did some smoking, you can do this at most of the restaurants in Japan. Funny thing, because I am used to go outside to smoke but in Japan it's more common to smoke inside. If you want to smoke outside you need to find a designated spot for this and have a pocket ashtray with you.
My train was off course right on time and so I started my journey back to Tokyo, and my first stop would be Yokohama, where I needed to change trains. The train system in Japan is super well organized and on this train the service is super high. You buy your ticket with a seat number and you find all the information on your ticket, so you know where to stand to board the train. Also, on this train they have a smoking room, amazing. After arriving in Yokohama my next train would bring me to Machida where we would play in a club that night.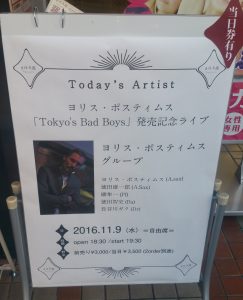 Because I was really early I had plenty of time to check out the city and find my way to the club we were playing that night.
It was very windy and cold so I decided to buy a jacket and found a cool shop. The customer service is so high in Japan, it's almost scary. The lady in the shop measured my arms and neck and assisted me to put the coat on, it was a perfect fit and after paying for it she came from behind the counter and handed the neatly packed jacket over to me and bowed.
After some walking around I passed a big sign outside on the street, I had found the club! Inside I found a beautiful club, very high class place and I introduced myself to the stage manager and other people from the staff. They were already busy getting everything ready for this night and I decided to check out the grand piano. It was a Yamaha, brand new and sounding super good.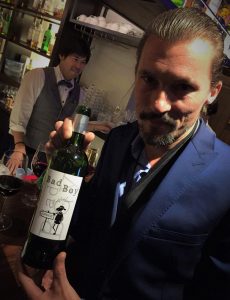 After some the band also arrived at the club and we did the sound check. This club has a very nice acoustic and made the group sound so big and clear sounding.
Because this club was new for all the members we did not know what to expect. Somehow we had lots of people coming to see our shows and also this time the club was getting busy with people. After a great show and selling many albums the lovely owner invited us to try a Japanese red wine to celebrate this night, she was very impressed by the band performance and promised us she would also come to see our last show in JZ Brat. It was a Bad Boy wine!
After packing up me, Yuichiro and Guku drove back to the centre of Tokyo but first we went stopped for a late night ramen. After this meal we dropped Gaku at his house and Yuichiro dropped me of at my hotel in Shinjuku where I would be staying for 3 days. I already stayed in this Hotel before so I already knew my way around. The next day me and Yuichiro had to go back to Osaka for a radio interview so after checking in the hotel I went straight to Bed. The next morning I would meet up with Yuichiro at the train station.